Aba-shea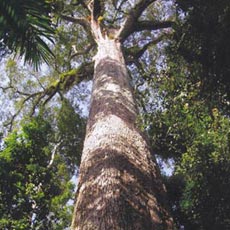 West African tree aba-shea grows in tropical forests and it is a separate tree up to 40 meters, covering the trunk up to two meters. Tangle aba-shea practically does not occur in nature, that is, it is very labor-intensive industrial logging and financially costly business.
Given the climate in which aba-shea grows, it is not surprising that the wood of this tree has a very low thermal conductivity. Even in the hottest sweating-room of bunk aba-shek never too hot, and when touched instantly takes the temperature of the human body.
Wood aba-shea is pale yellow color, resistant to decay and deformation, as well as almost no knots, because coma is located at the top.
Ease of processing, polishing, coloring and tinting can add products from aba-shea almost any shape and color, which opens up opportunities for designers to create unique colors in the interior design of saunas.
By the way, the unique properties of aba-shea were accidentally discovered by the Finns, who received a parcel in the mail from Africa. The fact that it was forwarded to Finland, history is silent, but the boxes for parcels were knocked together from planks aba-shea, the Finns are practical and used in facing their saunas.
At present wood aba-shea is popular as a material for covering the bunk in a sauna, gaskets on the wall (so that they can be lean back), and also for the manufacture of wooden planks and headrest for a comfortable stay in the sweating-room.