Chamomile chemist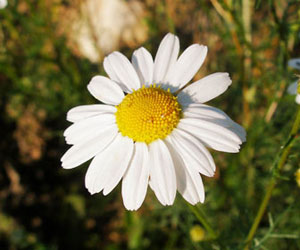 Chamomile – is an annual plant of the Asteraceae family, its height is about 30 centimeters. It is widely distributed in Europe, South America and India.
Chamomile essential oil is obtained by distillation of raw material with steam. Very long time this oil has been used as an antiseptic (somewhere before 1930).
The most valuable properties of chamomile is the ability to increase human immunity, to fight diseases of the gastrointestinal tract (including with ulcers of the stomach and duodenum), colds, hypertension, as well as to counteract various allergic reactions. In addition, chamomile has a strong bactericidal effect.
Also chamomile is used comprehensive skin care and hair care. It is known since antiquity about excellent cosmetic properties daisies. Thus, in ancient Rome, the girls used chamomile tea for whitening skin and combat dandruff.
It is worth mentioning that in some countries the infusion of chamomile acts not only as a remedy, but as usual drink. For example, in France is very popular chamomile tea. Strictly speaking, the tea is not there itself in it. All tea - this is infusion of chamomile with cream and sugar.
In landscape design chamomile is used as a means of enhancing the visual area of the garden. To achieve this effect, chamomile is planted along the edges of the garden (near the fence, if there is one).
Without exaggeration, we can say that medical preparations of chamomile (chamomile oil, chamomile infusion) are one of the most versatile means of maintaining health and beauty of the body. Moreover, the price of dried chamomile in drugstores is very, very democratic.
Another valuable feature of chamomile is that its infusions it is possible to treat even very young children.
In the sweating room aroma of chamomile well combines with the flavors of lavender and thyme. This combination has a calming and relaxing effect.