Sports sauna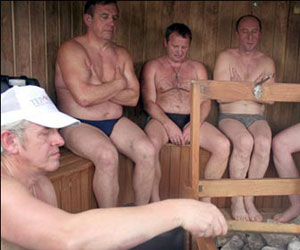 Sports sauna or sauna sport - this is the one from the still unpopular sports, the basic principle of which - as long as possible to sit in the sweating room, observing a number of specific rules.
World Championship in the sauna sport is usually carried out in Finland, and qualifiers in different countries, which has spread in a traditional Finnish sauna. Such Championship is organized in the format of a bright, happy holidays and attracts every year more and more of participants. And athletes from Russia increasingly took prizes in such competitions.
To participate in the championship only persons 18 years of age who do not have contraindications to the sauna, and bathers are active for more than 5 years.
The conditions in which the participant should have to compete are very severe and require remarkable health. Nominal temperature in the sweating room is 110 degrees Celsius (for women - 100), and every half a minute on the hot stones furnace fed 0.5 liters of water, that is, the amount of steam is maintained at a high level.
The complexity of the competition lies in the fact that the posture of participants is strictly regulated. In sweating room it is necessary to sit with straight trunk and allowed wiping body hands, thus reducing the steam's action (you can only brush off the sweat from his eyes). It is necessary regularly to inform the judges of one's status by raising the thumb.
Registered record of stay in these conditions is about 20 minutes.