Sauna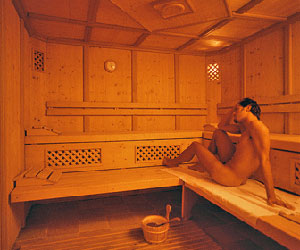 Sauna is a Finnish analogue of the Russian bathhouse (bathhouse in Finnish and will be - sauna). The singular and very important differences the sauna from bathhouse are temperature and humidity in the sweating-room.
In contrast to the Russian bathhouse, where the temperature rarely reaches 100 degrees Celsius, in the Finnish sauna 120-125 degrees - it is the norm. Sometimes, the sauna's fans prefer to sweat at 140 degrees. Undergo a high heat helps very low humidity, just – 5-10 percent. Of course, such extreme conditions there are several caveats to ensure the security and benefit of sweating.
First, before entering the sweating-room to take a shower and mop dry not prevent burns.
Secondly, the duration of one entering in a sweating-room is desirable to limit to 5 minutes - untrained people, and up to 10 minutes - trained. In the sweating-room should breathe only by mouth and it is desirable less talk, because hot air can burn the mucous membranes of the nose. And of course, watch your well-being. At the slightest sign of dizziness or occurrence of tinnitus - a sweating-room should be off and relax in the lounge or swimming-pool.
The history of the Finnish sauna is very interest. According to some sources Finnish saunas have appeared about two thousand years ago. Then they were a cave on the hillside, which was equipped primitive hearth. Initially, such "sauna" was a place to live, and then to wash.
Beginning in the 11th century AD, there is a new type of sauna - a log structure in the same cave without a hearth. Smoke from this sauna out in the ceiling hole or door. During this period, a Finnish sauna is very similar to a Russian bathhouse "in black."
And finally, in the early 20th century, there is all known sauna to the chimney, which is gaining tremendous popularity worldwide. In our days, the modernization of the Finnish sauna is only way to improve cave. There were heaters on gas, electricity, and special wood heating elements.