Lavender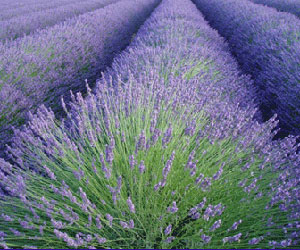 Lavender – is essential-oil crops, perennial evergreen shrub. It represents a shrub up to half a meter with a powerful root. The essential oil content in the raw plant – is about 2 per cent, the highest concentration of which is observed in blue flowers. It grows mainly in the Mediterranean region and in India. Although artificially bred in many countries, and with a colder climate.
Lavender has begun its march around the world since the filing of the ancient Romans, who used it to flavor the water in the thermae (baths). By the way, there are now luxury saunas, where the water of swimming pools flavored with lavender.
Lavender widely used today in the manufacture of cosmetics and perfumes (soap, deodorant, perfume and so on).
In France, Italy and Spain also used as a condiment for salads, lamb dishes and a variety of soups (dish sprinkle with powdered lavender). It is an ingredient in many alcoholic and non-alcoholic beverages. In some countries, lavender added as a green tea flavor.
Aromatic properties of leaves and lavender flowers have found their application in everyday life. The smell of lavender is not only refreshes closets and rooms, but well deters moths and mosquitoes.
Lavender oil has a calming effect, because it is often used for migraines, stress and heartbeat. Also, lavender essential oil, infused with alcohol, is used for the local friction with articular rheumatism and neurological manifestations. It is practiced by therapists as the main massage oil.
Another use of lavender - is landscape design, where it is used to create living ornamental hedges, individual flower arrangements in the garden tubs, and revitalizing landscape of gravel. In addition, the root system of lavender is a kind of "cement" to strengthen the slopes and steep slopes in the garden.
Lavender oil has been proven successful when used in the sauna. After a day, to relieve irritability, enough to sprinkle a little water with a few drops of the oil on the stove in a sweating room and a bad mood as arm lift.