Grapefruit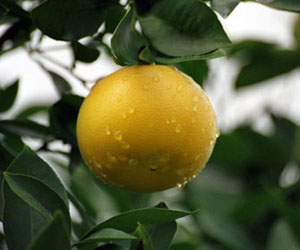 Grapefruit – is a tree of the family Rutaceae. It is undersized tree, height of only 3.5 meters. The area of distribution – is Mediterranean, Southern Europe, North and South America. In the wild are not known. It is assumed that grapefruit is a hybrid of orange and shaddock (fruit tropical plant).
For 1 kg of grapefruit's essential oil it is necessary to process about 100 kilograms of raw materials (fruit peel). Grapefruit fruits are well known. In addition to direct consumption, they are used as a spice in the confectionery industry and kitchens of different nations.
Grapefruit oil has a wide range of effects on the body. It effectively helps in eating disorders, improves liver and gallbladder.
Grapefruit also is the main component of the famous Grapefruit Diet. This is because on the one hand grapefruit accelerates metabolism in the human body, and on the other hand, stimulate the digestive tract, causing slimming effect.
In addition, the flavor of the fruit positively affects the central nervous system, relieves depression, stress, awakens a desire to life.
Despite all the above curative properties of grapefruit, there are the results of research (conducted in the United States) prove, as if his regular use increases the risk of breast cancer in women by 35 percent. Studies have been done is not quite correct (it was not taken into account many confounding factors). However, as is known, no smoke without fire. We would recommend to refrain from daily consumption of grapefruit fruits women who are postmenopausal.
Contraindication to eat grapefruit fruit is liver failure, and the use of essential oils of grapefruit in the sauna – is just idiosyncrasy citrus. Also should not eat grapefruit fruit (as well as all other citrus fruits) along with any medications.