Canadian red cedar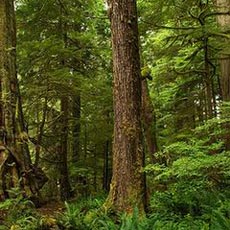 Canadian red cedar (another name: giant arborvitae) grows to the west coast of North America and it is a powerful high-survivor tree. Individual reaches the age of cedars 800-1000 years, height - up to 75 meters, and the coverage of the barrel - to 5 meters.
Wood red cedar is a valuable building material, widely used for exterior and interior living spaces, as well as in the carpentry trade. Because of its low density, the rooms, decorated with red cedar on the outside, much longer retain heat. As for the sauna, the red cedar reduces warm-up time in the sweating-room a half to two times, compared with the wood of deciduous trees.
Superior resistance to decay, low thermal conductivity and flame speed (unique feature!), as well as ease of processing panels made from canadian red cedar "upper class" in facing luxury saunas worldwide. It especially prized color of red cedar's batten: from rich yellow to reddish-brown, almost chocolate.
Easy unobtrusive scent exudes cedar paneling, kept indoors for several years, bringing joy to their owners the opportunity to plunge into the atmosphere of the coniferous forest in the comfort of your own home.
Wood red cedar has been so popular and in demand, which came on the market in the Chinese counterfeiting products of it. Panels of Chinese "red cedar" are 15-20% cheaper than the original, however, they significantly worse in performance.
Distinguish a fake untrained person is difficult, but possible. Chinese "red cedar" has a slightly different pattern of wood and less saturated color than the original.